The

PERGOLA DESIGN & INSTALLATION SPECIALISTS

in Melbourne


For the best verandahs, patios, and pergolas in Melbourne, Look no further than Light & Space. We truly understand how difficult it is to find a trusted pergola builder in Melbourne. Whether you want to create an al fresco area for your home or add a shaded area for your business, We can help. Our pergola builders can design, Supply and install a range of specialist outdoor and backyard structures including pergolas, Verandahs, Patios, Gazebos, Pool Covers, Commercial shades, and more. Our pergola builders in Melbourne combine superior workmanship and craftsmanship, use only the highest quality materials available to deliver a standard of service that is unmatched by our competitors and follow standard practices that are in compliance with the Victorian Building Authority.
A custom designed pergola not only add value to your house but also improve the overall aesthetics of the house. Our pergolas builders are the official Australian distributor for the dott. Gallina range of premium twin wall polycarbonate roofing products including AcroPlus. Featuring IR solar control and UV-TECH protection, our polycarbonate roofing will increase light transmission and reduce temperatures while standing up to the tough Aussie climate.
EXPERT PERGOLAS BUILDERS
At Light & Space, We have an expert team of pergola builders who will work with you to design an outdoor space that's perfectly suited to your home or business. We also provide pergola installation anywhere in or near Melbourne.
Our pergolas builders specialise in the design and construction of outdoor living spaces for nearly 50 years. As members of Master Builders Victoria, Housing Industry of Australia platinum members and Building Commission of Victoria registered practitioners, you can rely on our quality customer services. Our pergolas builders will conduct a detailed analysis of your home and then provide a solution based on your requirements. Our leading pergolas builders work closely with the customers and thoroughly understand what they need from their new home extension. Our pergolas builders can bring to life any pergola ideas, styles, custom designed for your home.

Portfolio
PATIO'S & VERANDAH'S >
Pergolas are quite versatile structures – they can protect you from the sun on hot summer days and keep you dry on wet winter ones.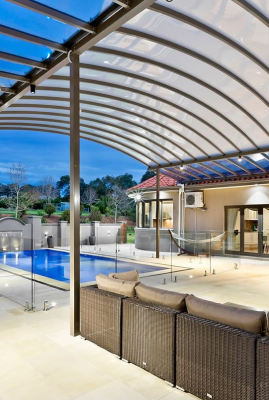 Pool Covers >
Having a pool can make you the envy of friends and family, and with a pool cover from Light & Space, you can enjoy a dip in the water whenever you choose - protected from harsh UV rays in summer and rain throughout the year.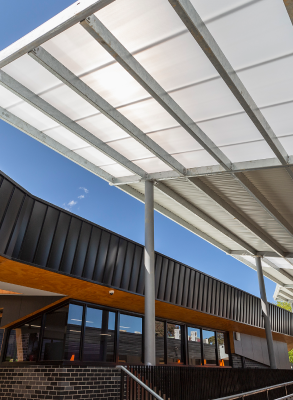 SCHOOL PROJECTS >
The strength and durability of our Light & Space Roof Systems make them a popular choice for walkways and shade structures in schools all around Australia.
Commercial
>
At Light & Space, we don't just design and construct structures for residential homes - our commercial roofs and exteriors are an excellent addition to any workplace, and allows you to take full advantage of your premises.
More about

light and space
More about

light and space