Why choose

Light & Space

for your Polycarbonate Roofing in Melbourne?
Twin Wall Polycarbonate Roofing - Melbourne
At Light & Space, we provide premium Multicell twin wall polycarbonate roofing for homes and Commercial projects throughout Melbourne. We are the official Australian distributor for dott. Gallina polycarbonate roofing products. The Twin Wall Polycarbonate Roofing in Melbourne offers structural strength, excellent insulation and is robust enough to suit the domestic and commercial sectors.
The cellular structural components and design of Twin Wall Polycarbonate Roofing sheet makes it lightweight, durable, robust and impact resistant which makes it the ideal choice for roofing and glazing for homes and businesses.
The ArcoPlus range of polycarbonate sheeting features protective IR solar ray filtering. This enables innovative building and design solutions that allow for maximum evenly diffused natural light that is softer, safer and brighter while reducing thermal transfer and filtering out the sun's harmful UV rays and radiant heat. ArcoPlus with IR & UV Technology control can result in a reduction in temperature of up to 25%, lower cooling costs, and an increase in light transmission of up to 60%.
Our range of polycarbonate roof sheeting is available in a range of sizes and thicknesses and is suitable for a range of commercial and residential applications including skylights, pool enclosures, greenhouses, gazebos, carports, patios and pergolas and more.
UV-Tech Protection
ArcoPlus roofing can also be finished with a UV-TECH external treatment that absorbs UV wavelengths, making the sheeting more chemically stable, prevents polymer damage and increases protection from solar radiation damage. The Twin Wall Polycarbonate Roofing provides great protection from harmful UV spectrum of the sun while letting the natural light and heat in your homes and businesses. The Twin Wall Polycarbonate Roofing is more impact resistant and robust in Australian harsh weather conditions including fire prone areas, compared to glass.
ArcoPlus products finished with UV-TECH external treatment come with an extended warranty of up to 15-20 years.
Double Colour Technology
ArcoPlus Bi-Colour polycarbonate panels can be produced with different internal and external colour layers. This allows for greater design flexibility and maximum visual impact.
Sheets are extruded with two different masses, one for the inner surface and one for the outer. This production method allows for the management of light transmission while creating colour effects and adding versatility to your design options. 1000's of colours to choose from . Dott. Gallina can also match any colour .
Roofing Builders in Melbourne
At Light & Space, we are your expert roofing builders in Melbourne. We can custom design a wide range of commercial and residential roofing systems, supply premium quality materials and completely handle the installation from start to finish including plans and Building Permits.
Whether you're looking for a pergola or verandah builder, or you're planning a gazebo, sunroom, greenhouse or any other space where natural light is essential, we can help. To find out more or organise a free quote, give us a call on 1300 867 970 or contact us online.
Simple, Clean, Stylish
We offer a modern and stylish approach to the construction and installation of Twin Wall Polycarbonate Roofing. We will prepare a comprehensive design using either architectural plans or simple photographs of the location and ensure the Twin Wall Polycarbonate Roofing is perfectly suited to your property.
DIY or Complete Construction
Our patio, Polycarbonate Roofing systems are available in DIY kits, with professional and qualified assistance or as a complete construction and installation package. This ensures that we help to meet the needs and skill level of all homeowners.
Quality Workmanship
Our structures are made from powder-coated steel beams, aluminium bars and translucent polycarbonate products. All construction and installation work is carried out to the highest standards of workmanship and come with generous warranties.
KEEP THE HEAT OUT AND ENSURE YOUR SPACE IS COMFORTABLE
Gallina's new IR technology means that they can create polycarbonate products with an infrared filter on the external surface of the sheeting. This blocks heat from penetrating the space and can reduce the temperature of your verandah area by up to 25%.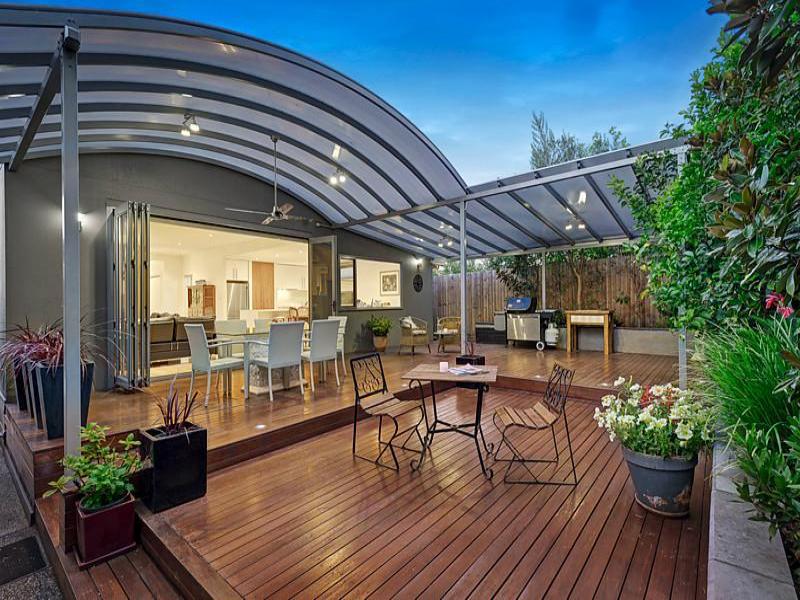 Areas We

Service
Light & Space can provide verandahs to suburbs around Melbourne, including: Kew, Rowville, Doncaster, Doncaster East, Balwyn, Toorak, Canterbury, Blackburn, Donvale and Templestowe.