POOL COVERS - MELBOURNE
At Light & Space Roof Systems, we design, supply and install premium swimming pool covers across Melbourne. With spans of up to 9m, our pool cover solutions are durable and can withstand all kinds of weather conditions. They are purpose designed to minimise noise around the pool and maintain a tranquil and calming environment in your backyard.
Our pool cover solutions are made from premium Twin Wall Polycarbonate Roofing supported by a screw-free AB rafter system that allows for thermal movement while eliminating expansion noise. The beams, posts and brackets used to construct our covers are made from powder-coated steel and aluminium. Our pool covers are corrosion resistant and designed to withstand the moisture, salt and chemicals commonly found in pool areas.
At Light & Space Roof Systems, we offer a wide range of design and installation services for all kinds of outdoor structures including verandah, pool covers, gazebos, patios, pergolas in Melbourne and more.
BENEFITS OF OUR POOL COVERS
There's nothing better than a dip in your very own pool. With a pool cover from Light & Space Roof Systems you can get even more enjoyment from your swimming pool. Our polycarbonate pool covers offer shade and will filter out 99.9% of UV rays, protecting your family from the sun's harmful rays.
They will also protect your pool area from the wind and rain and reduce the amount of dirt, debris and leaf matter that gets in your pool. This makes cleaning easier and reduces the amount of work your filter has to do.
In short, with a swimming pool cover from Light & Space Roof Systems, you can enjoy your pool year round, while spending less time and energy on cleaning and maintenance.
Why choose

Light & Space

for your Pool Cover?
Durable Construction
With our screw-free AB rafter system the polycarbonate sheets lock together allowing for thermal movement and eliminating expansion noise. The structure is made from powder-coated steel and premium quality aluminium and is completely corrosion resistant and won't fade in the sun.
Unique and Stylish
Our premium combination of technology and design guarantees a state-of-the-art structure for your swimming pool area that boasts a streamlined appearance and striking attention to detail.
Building Experience
We have nearly 50 years' combined experience constructing premium quality pool covers, patios, pergolas, gazebos and verandahs in Melbourne. We employ a specialist team of designers and builders who possess the knowledge needed to assist you every step of the way.
Protect your family against sunburn and melanoma
The Australian sun can be brutal. Even limited exposure can lead to sunburn and increase your risk of melanoma. Our pool covers are purpose designed to protect your family from the sun while still allowing you to enjoy the great outdoors. We use polycarbonate sheeting that's 99.9% UV resistant, meaning it blocks out nearly all the harmful ultraviolet and infrared rays while letting through the sunshine.
All our materials are suitable for use in wet environments
We use powder-coated steel and aluminium in the construction of our pool cover frames. Both of these materials are highly resistant to rust and salt attack, which are often a concern around swimming pools. Our polycarbonate is also resistant to moisture, chlorine and salt and won't crack or fade in the sun.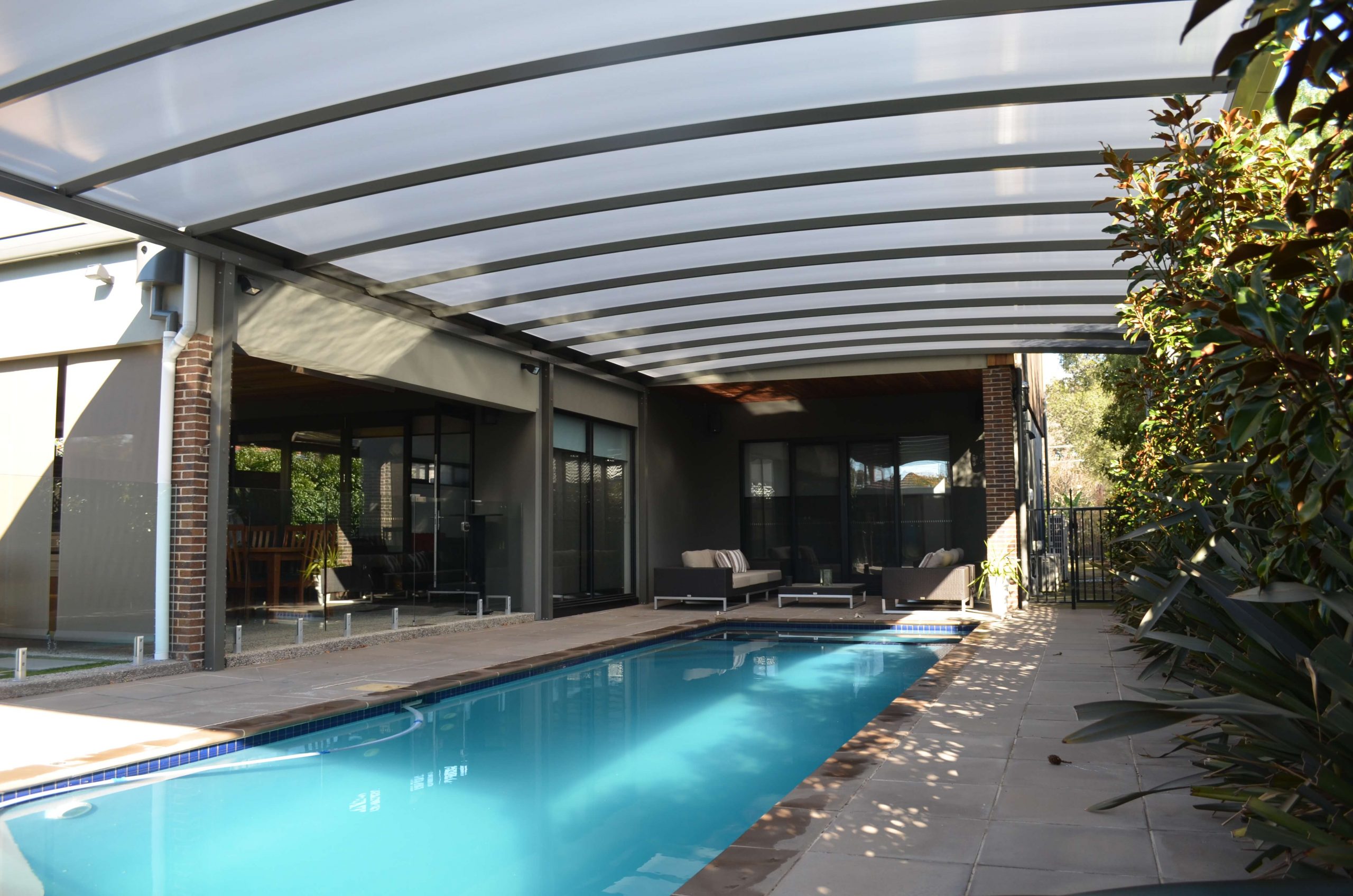 Areas We

Service
Light & Space can provide verandahs to suburbs around Melbourne, including: Kew, Rowville, Doncaster, Doncaster East, Balwyn, Toorak, Canterbury, Blackburn, Donvale and Templestowe.